I remember when I did a stint teaching English as second language to Korean kids, one of my students talked about Korean food and her favorite, Kalbi (or Galbi) meat (while I shared with her about lechon ;)). At the time, there were only a few Korean restaurants in Manila (and a few blogs that write about food!), and if you were not with a Korean friend, you would not know what and how to order in a Korean Restaurant. It would be a bit intimidating.
In the 6th Level of East Wing Shangri-la Plaza, there is a modern family Korean restaurant that offers traditional Korean food that retain its authentic flavor – Woo Galbi. The name refers to a specialty consists of marinated beef short ribs. But Woo Galbi is not all about galbi (or kalbi), ribs and meat, keep on reading to find out what's on the appetizing menu.
Let's start with.. appetizers. A banchan –  6 mini Korean appetizers (most of them are spicy! Oh, and I like them!)
 Click Read More to see more of Woo Galbi's appetizing offerings..

Woo's House Salad Php 185
This is more like a Chinese Salad but with onion dressing, 
crunchy wonton crisps and apple slices on the side. 
Tofu Steak Php 220
Pan fried tofu with special sauce. 
I am not much of a tofu eater, but the sauce could make me finish this bowl
Scallion Pancake with Seafood Php 225
This got to be one my favorites from the menu
Beef Belly Wrap Php 135
These are thin slices of meat wrapped in soft tortilla flour.
I love the generous serving of greens, and the special sauce. 
For those who love Ramyeon and Noodles, Woo Galbi has a good mix of spicy, flavorful and hearty ramyeon. 
Ojing-O (Squid)
Jeyuk (Pork)
For Sushi and Rolls, here are some recommendations:
Tiger Roll Php 361
Ebi Tempura Roll topped with Spicy Tuna & Ponzu (citrus-based sauce)
Just like eating a cake roll, the sides are the best parts, 
you get to take the ones with shrimp head and tail. 🙂
Woo Galbi Roll Php 588
Snapper Tempura, crabmeat and mangoes topped with BBQ eel
avocado and tenkasu
This is another favorite. I love the mix of avocado and mangoes!
Spicy Deep Fried California Rolls
I cannot find this in the menu, but this is highly recommended. 
A new sushi experience for the classic California Roll.
I love the mix of sweet and sour sauce. 
Now let's go to real meal. Although the appetizers are already filling, I feel that I didn't truly eat a meal (or lunch or dinner) if I have not had rice. 
In Woo Galbi, they make Bibimbap a little more fun and exciting to eat. You can choose your own dish, rice, topping and sauce for only Php 420!
Rice: White or Red Rice
Toppings may be shrimp, spicy pork, chicken terriyaki, bulgogi, barbeque fresh water eel, tempura shrimp, fresh/raw tuna or salmon
Sauce: Citrus Soy Sauce, Korean Chili, Dressing, Bulgogi Sauce
Bulgogi Beef Bibimbap 
Spicy Pork with Red Rice
I love the Bimbimbap here (comparing to Kogi Bulgogi's!). The egg presentation is also impressive 🙂
You can eat the meat wrapped in greens, or with rice
I love the tender meat strips and the sauce!
It seems that the meat platter was not enough for us. I was ready to order another Ssam plate, when this was served to us!
All Beef Platter 1 Php 1,350
Prime shortribs (bone-in), shortribs (boneless) and hanging tenders
Look at that marinate sauce embracing every meat strip
It was cooking low and good with terriyaki sauce
This is what I hate about food blogging, I am now seriously craving over those fine meat slices and rolls. It was a good lunch with blogger friends. We were so full, we just literally stared at all the remaining food. Food coma kicked in. It was indeed a good meal. The kind which made me laugh really loud (you should hear me laugh! Seriously, they say I can be a bit scandalous). I kind of miss my crazy lunch outs with former co-workers. It is always good to have happy tummy and happy feeling 🙂
We skipped desserts because we were so full. Woo Galbi serves cheesecake, ice cream and chocolate cake. It also offers Yogurt Ice Cream Bars.
Check out
Woo Galbi
for some good, authentic Korean dishes. You would also love the modern, posh ambiance. If you dine outside the main hall, you get a good view of the Shangri-la driveway (not so romantic scene as that of
Gramercy's
), but what is a good view without a good company?
Thank you friends! It was awesome to have crazy, fun friends
in the blogging community. Next time, will try to bring the other bloggies, 
Team Clingies, the Busy Women and Team Icebers here 🙂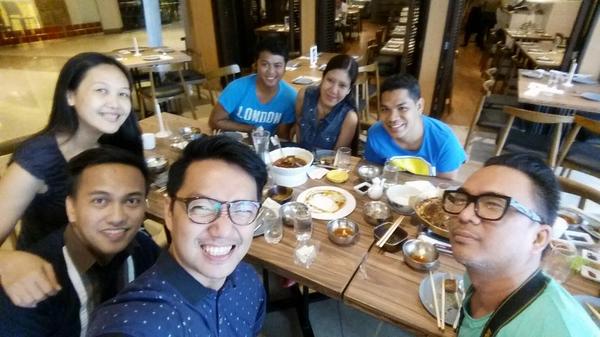 pic by @mykesoon
PS. Check out this promo from Woo Galbi. Enjoy unlimited Woo Galbi Ramyeon from 2 to 5 PM (Monday to Saturday) for only Php 250! Slurp away!
Have you tried Woo Galbi?
How's your Woo Galbi experience?
Woo Galbi 
6th Level East Wing 
Shangri-la Plaza, Mandaluyong City
Stay connected with me, subscribe to my blog!
Enter your email address: