Tweetie de Leon – Gonzales is my favorite fairy (remember "Okay Ka, Fairy Ko?") that was when I have first known a Tweetie de Leon.
Just last week, I saw her during her launch as the brand ambassador of Organique Acai. She looks like the same "fairy" that I have seen in TV years ago.
The launch and unveiling of the new packaging of Organique Acai was held in Makati Shangri-la Hotel and hosted by Sir Johnny Litton. He remained as candid and funny – sharing with us how important health is – because without health, we cannot enjoy life and love.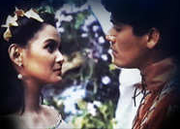 Flashback to some x years ago 🙂
Organique Acai is a superdrink that officially began 5 years ago with a husband-and-wife team Elton and Cathy Salimbangon, who were working in the United States at that time. They were both working and juggling busy schedules that they felt tired and restless until they saw an opportunity to create a beverage drink that would supplement people's daily health needs without sacrificing time or budget.
The couple left California and set-up Organique in the Philippines which they first sold door to door. It wasn't difficult to market the product as acai berry does provide a lot of health benefits.
Organique Acai Berry Recipes
Chris Everingham, a member of Philippine Volcanoes is a (surprise, surprise!) nutritionist and he shared some recipes that we can do at home with Organique Acai. We can mix it with cereal and fruits 🙂
Tweetie de Leon – Gonzales as the New Face of Organique Acai
Five years later, they now welcome Tweetie de Leon – Gonzales as the newest face of Organique Acai. Tweetie is 52 years old (but she looks like 35!). She said that she has always been into fitness and sports. She started playing volleyball at the age of 10 and now he is into biking, kick-boking, cardio classes and ashtanga yoga. She also used to do SCUBA diving.
Even as a wife and mother, she finds time to incorporate sports in her lifestyle. It helps that her husband and kids are also into fitness which makes it a family bonding – but schedule can be pretty hectic especially for college kids.
Tweetie de Leon has developed hyperacidity (and she was clueless on how to treat it, being dependent on over the counter medicines). When she discovered Organique Acai through Ms. Cathy (who she met 2 years ago), she is happy that the wonder drink has helped her managed her hyperacidity. She takes 1 shot in the morning and 1 shot in the evening – that she sometimes takes a bottle with her during trips.
Now sharing Tweetie's Secrets to Staying Young:
Taking daily greens.
Sun protection – "I don't leave home without it!"
Staying Active. Tweetie cannot go for long periods without exercise. She got addicted to "happy hormones" called endorphin, released after a bout of heavy physical activity.
Stress-free living. Just leave everything to God 🙂
Balance in everything. Balance in nutrition, in exercise, in work and rest, self and others.
I really love what she shared during launch. She is truly a fairy.
I also love what Sir Johnny has shared during the event:
Our problems and negative energy, we keep to ourselves.
The happy moments and positive feelings, are what we share.
with Twinnie Charlene and new friend, TinaVilla.com 🙂
Organique Acai will be having a road show all across the United States in August, including New York, New Jersey, Washington DC, Maryland and California.
They raffled off a special US tour prize during the event and Earth won the amazing prize!
Congratulations!
Martha, Ana, Earth, Ruth, Charlene, Tina and Phya
grabbed from @charleneajose
Congratulations Organique Acai and thank you for introducing this wonder drink!
Check out the event photos at #PurpleLifestyle #PixRepublikPR
Don't miss me. Subscribe to my blog
here
and receive updates from me straight to your mailbox.