Davao is a vibrant and culturally diverse destination located in the southern part of the Philippines. A home to Mt Apo, the highest peak in the Philippines, and Durian, the king of fruits. The destination offers a variety of exciting attractions from natural wonders and beaches, to interesting food and exhilarating activities.
Manila to Davao is just a 2-hour flight with the fastest and most affordable flight via Cebu Pacific Air for as low as Php 3,087.
My first Kadayawan Festival Experience in Davao.
Cebu Pacific Air and the Department of Tourism Davao flew us to Davao City to experience the sights, sounds, and flavors of the Kadayawan Festival
During our recent travel to Davao for the Kadayawan Festival, we also got to explore other tourist destinations and culinary experiences. Davao City is considered one of the safest cities in the Philippines and is a good destination for solo travelers seeking an adventurous route.
Try the SkyCycle Experience
The SkyCycle is a thrilling attraction in Eden Nature Park and is a must-do when in Davao. Imagine riding a bike suspended in the air.
For someone like me who doesn't have biking skills, it was a very frightening experience. So I made sure to ask all the right questions and found out that it was indeed very safe. The Kuya Attendants are also very helpful and encouraging. You don't need to know how to ride a bike to enjoy the experience and the view of the landscape.
Walk in a SkyWheel
Feeling like a hamster in a giant metal wheel? Another thrilling ride at Eden Nature Park, the SkyWheel allows you to walk in a giant metal wheel at a distance of 200 meters and 60 feet above the ground.
You need to have a good balance when walking, and it is a real cardio activity to burn the extra calories you would gain from your Davao food trip.
Take Beautiful Photos at the Eden Nature Park and Resort
Aside from the adventure rides like SkyCycle, SkyWheel and Giant Swing (a reason to go back!), Eden Nature Park and Resort offers lush, themed gardens and scenic views adorned with a variety of plants and bird species.
I wish we had more time to just enjoy a leisurely walk around. For those who want to extend their stay, the resort also offers accommodation including cottages and lodges. Eden Nature Park also has a restaurant inside that offers buffet lunch and dinner. One of the must-tries is the Crispy Pancit Luglug.
Visit a Crocodile Park
The Davao Crocodile Park and Zoo is one of the most unique zoos I have ever visited. It is known for its conservation efforts with 90% of the animals being rescued. Inside you would get to learn more about fascinating animals like the king cobra, white tiger, lion, and different species of birds.
The freshwater and saltwater crocodiles are breeded for consumption (they are not captured from the wild), and they are provided with environment close to their natural habitat.
Try the Exotic Crocodile Lechon
Crocodile Lechon is an exotic delicacy that you can eat at Davao Crocodile Park & Zoo. It is especially prepared during special occasions, just like the recent Kadayawan Festival celebration.
We were in luck and we got the try this unique dish which is prepared and roasted for 6 hours. Instead of apple, you can find the native fruit, durian placed on the mouth of the crocodile. It looks like Lechon Liempo, with crispy skin but the meat is a bit firm to chew.
Enjoy a Cup of Crocodile Ice Cream
Crocodile Ice Cream is another exotic and unique dish that you can try during your visit to the Crocodile Park and Zoo. It is made with crocodile meat and eggs, and comes in 4 different flavors.
I especially like the Crocodile Ice Cream Chocolate flavor which is smooth and flavorful; while the Crocodile Ice Cream Coffee flavor has coffee bits on it.
Indulge in Aling Fopings Halo Halo
Halo-halo is an iconic Filipino dessert and every destination has one beloved brand for halo-halo. In Davao, the most recommended Halo Halo is from Aling Foping's.
You get a checklist of the ingredients that you want to include in your order (Ultimate Halo-Halo), but there is also an option to order Regular Halo-Halo (with 6 ingredients). I think what makes it special is the shaved smooth ice (not the spikey type).
They also offer Maize con Hielo and Durian Halo-Halo. Price ranges from Php 80 to Php 230. Personally, I recommend that you stick with the Halo-Halo 😁
Enjoy Tuna in 10 Different Ways at the Marina Tuna Restaurant
Marina Tuna is famous for its "Tuna Ten Ways" which showcases the versatility and flavor of tuna, such as tuna kinilaw (raw tuna marinated in vinegar and spices), tuna steak, tuna belly, tuna sashimi, tuna sisig (chopped and fried tuna with onions and chili), and tuna tendons (deep-fried tuna cartilage). Personally, I love the Tuna Sisig.
You can also cap off the meal with their signature desserts – Ube Halaya, and for the more adventurous foodie, there's Durian Ice Cream Cake.
Shop at the Poblacion Market Central
Poblacion Market Central is a new lifestyle hub in Davao City that houses souvenir shops, restaurants and cafes, and an art gallery. I love the industrial interior of the mall with a working elevator and decent restrooms.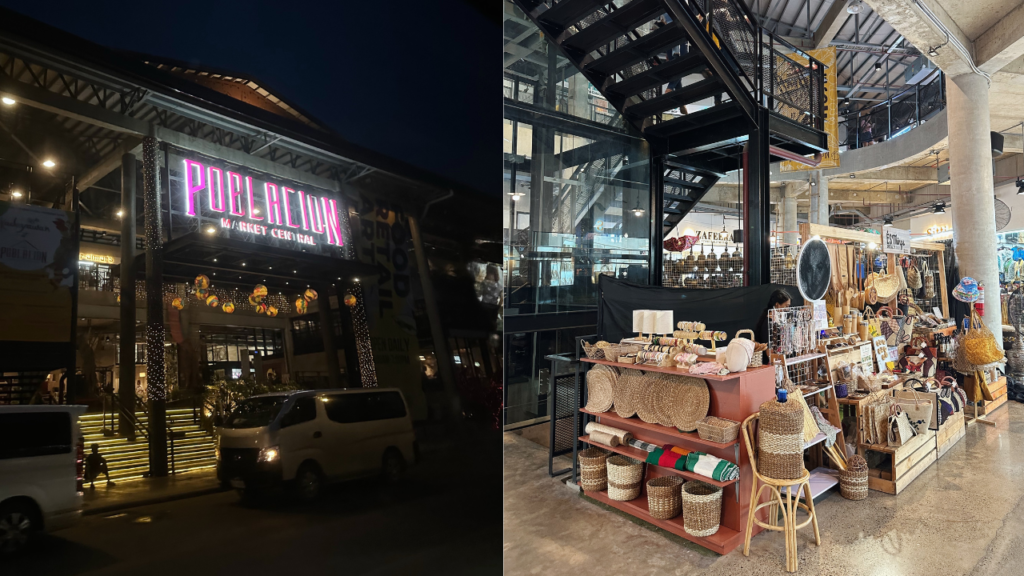 Inside you can find specialty stores that sell wooden sculptures, weaves and textiles, handicrafts and fashion pieces. We especially love the art gallery near the entrance.
Davao truly has something for every traveler and explorer. My recent trip to Davao was full of new adventures and thrilling stories. I am so happy to have traveled with such a fun bunch, and to get a chance to bond with blogger friend, Jacque.
Special thanks to Cebu Pacific Air, the Department of Tourism Davao, and Buzzsetter (for some of the photos in this post).
Thank you for following this adventure. Until the next one!
You can also watch this video version on Tiktok