Wingstop Glorietta was transformed into a bar-slash-party-place once again for the launch of Wingstop Brand Ambassadors.
I was there to party and support the brand and blogger friends who is part of the Wingstop Influencer roster.
(disclaimer: I felt like I so much enjoyed my chicken and time during the event that I totally missed to take a lot of photos). 😀
Yes, I love chicken. I feel like Fried Chicken would always save me if I don't like what my mom has prepared for lunch (or dinner). But the usual Fried Chicken can gets boring if you would eat it 7x a week. Thankfully, Wingstop has 14 Flavors inspired by different flavors to ensure that there is always something for everyone.
Wingstop launched a one-of-a-kind digital exhibit featuring some of the most influential individuals from a range of industries to represent each flavor.
Meet the Wingstop's 14 Flavors and Brand Ambassadors
1) Ashley Gosiengfiao – Teriyaki
"Wingstop is seriously good. Besides the fact that I'm really into Japanese culture, I love the taste of Teriyaki flavor. It tastes really authentic."
2) Camie Juan – Lemon Pepper
"The best thing about Wingstop is that every time you go, you can try something new. There's a great variety of flavors! The nice thing about the Lemon Pepper flavor is that it has just the right amount of savory flavor, balanced out by the lemon-y zest."
"It's all about the flavor at Wingstop. The Cajun flavor is deliciously complex—it has a lot of soul."
4) Natalia Ortega – Honey Garlic
"The Honey Garlic flavor is a good balance of sweet and spice, the kind that will keep you craving after each bite."
5) Ornusa Cadness – Spicy Soy
"Wingstop delivers, without trying too hard. As someone who is a fan of spicy food, this flavor definitely hits home."
6) Reese Lansangan – Mild Buffalo
"Wingstop is the go-to restaurant for wings with incredible flavor. I think Mild Buffalo is a staple flavor you can't get tired of ordering—it is very dependable for a satisfying meal. No fuss, very relaxed."
7) Rhea Bue – Honey Barbecue
"I love Wingstop because they have an impressive variety of flavors. Sweet gets an upgrade with the Honey Barbecue flavor. It has this unexpected kick that leaves you wanting more."
8) Jelito de Leon – Garlic Parmesan
"Wingstop is definitely the kind of restaurant you don't just visit once. What I like about the Garlic Parmesan flavor is that it is simple and straightforward, but very satisfying. Plus you can match it with anything."
9) Wil Dasovich – Hot Buffalo
"I must say I am impressed with Wingstop. And the Hot Buffalo flavor is the real deal. I consider myself a spicy flavor expert, and these are the best hot wings I've had since I've arrived here in the Philippines."
10) Yuki Tansengco – Mango Habanero
The best thing about Wingstop is the variety of flavors. I love the Mango Habanero flavor because it is sneaky—when it touches your lips you think it is sweet, but when you bite into it, you are surprised by the spice."
11) Tricia Centenera – Atomic
"When it comes to Wingstop, I can eat a number of them in one sitting. What I like about Wingstop is the amazing sauce. The Atomic flavor is fierce. It packs a big punch."
12) DJ Tony Toni – Louisiana Rub
"Wingstop gets its wings right, down pat. And the Louisiana Rub flavor bursts in your mouth. It is addictive."
13) Cher Lui Pio – Korean Soy
"Wingstop always satisfies my cravings, and hits a sweet spot every time eat there. The Korean Soy flavor is so unique. I don't know any other flavor that tastes like it—it has just the right amount of sweetness, and the perfect balance of flavors you crave for."
and of course, Apple of my Right Eye 🙂
14) Paul Chuapoco– Hickory Barbecue
"Wingstop does flavor really well. They are definitely the flavor experts. What I like about the Hickory Barbecue is that it's sweet, yet really bold."
The Wingstop Flavor Invasion
The better deal, Wingstop is giving you more in Wingstop Flavor Invasion through the Flavor Pass.
Available from May 23 to August 31, 2016, the Flavor Pass is redeemable with any single receipt purchase at any Wingstop store.
Collect stamps for every flavor that you try and earn yourself P1,000 gift certificates for every Flavor Pass that you complete.
Customers get extra wings with every purchase of the Classic or Batter-Fried Wings.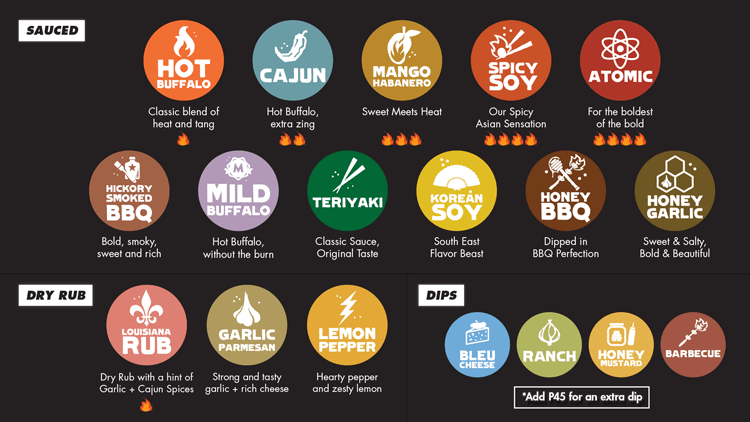 So if your appetite requires a 5-piece, you get 1 piece free. If you're craving for a 7-piece, you get 2 wings for free and if you order an 11-piece, you get 3 free wings with your purchase!
We invaded Wingstop for some good chicken and drinks.
Which Wingstop Flavor is your favorite?