Santiago Cove in Ilocos Sur is a new travel destination hailed as the Santorini of the Philippines. But what makes it more than just a destination – but an experience is how it stays true to the culture and flavors of Ilocos Sur.
A 3-day and 2-night stay in Santiago Cove is just perfect to have a break from the life in the city. We found our home at Santiago Cove Hotel which also offers tours and side trips to nearby towns, including Vigan.
Things to Do in Santiago Cove
Sharing some of the things that you can do in Santiago Cove.
Visit Inabel Loom-Weaving Site
Inabel, also referred to Abel or Abel Iloco is a weaving tradition native to Ilocanos. The textile produces a soft, durable, and beautifully crafted design.
One of the must-visit weaving houses is Corazon's Inabel Weaving House. We were lucky to have met Nanay Corazon during our visit – who has been practicing and teaching the craft for 6 decades. The weaving house produces different designs – mostly made to order that are used for clothing and home interiors.
Buy Souvenirs from Local Blacksmiths or Panday.
If you love collecting swords or knives, you can buy them from local blacksmiths in Caburao, Ilocos Sur. You can choose from different sizes of knives and swords, and even kitchen utensils.
Visit Mapisi Rock (known as Biak-na-Bato in Ilocos Sur)
Mapisi Rock, also known as the Biak na Bat located in Brgy. Ambucao, Santiago, Ilocos Sur is just a quick drive from Santiago Cove Hotel.
Mapisi Rock is a huge rock formation that is believed to have been cut by waves. What makes it interesting is it is bordered by the West Philippine Sea. Make sure that you get a photo in between the rocks, but keep an eye on your belongings as waves can get strong (and you don't want them to be washed away).
Aside from the rock formation, you can also take photos of smaller rock formations and coves surrounding the area.
Take Photos at the Moro Watchtower in San Esteban
On our way to Vigan for a quick side trip, we passed one of the watchtowers built in the 15th century by the Spaniards and the oldest landmark of the said town. The watchtower is listed in the National Historical Institute of the country and is one of the places to visit in San Esteban, Ilocos Sur.
Eat at the Famous Royale Blood Lechon & Eatery
Ilocos Sur is also famous for its version of Lechon (roast pig) which is served with blood as a special sauce. For those who do not eat blood (like me), don't fret as the eatery prepared special vinegar and Mang Tomas sauce so you can still enjoy the country's fave feast centerpiece.
Side Trip to Vigan
Vigan is just an hour drive from Santiago Cove, and is a must-visit destination when going up north . Make sure to stroll around Calle Crisologo, considered as one of the most beautiful streets in the Philippines, and take photos featuring old Spanish houses and architecture.
Vigan Tour is one of the services that the Santiago Cove Hotel offers to its guests. You can coordinate and contact them for the schedule and rates.
Enjoy Water Activities at Santiago Cove
You do not need to go far to enjoy a uniquely Santiago Cove experience. Just right in front of Santiago Cove Hotel, you can enjoy water activities like Banana Boat, JetSki, and Kayak.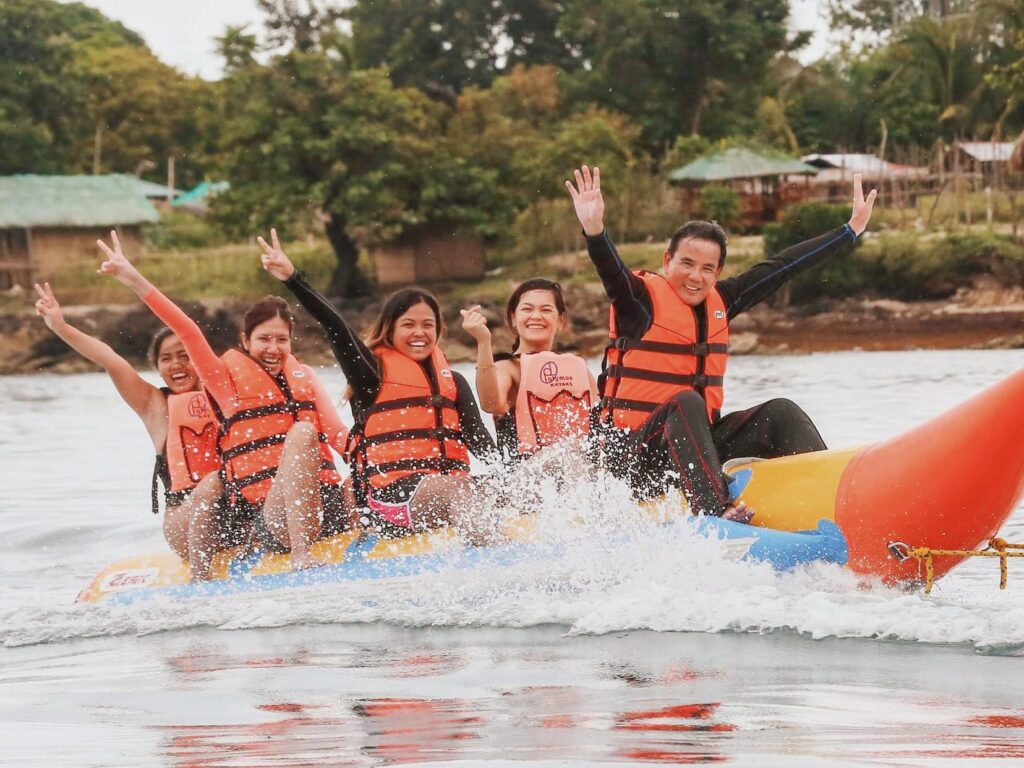 The bar by the beach side is a perfect spot to enjoy the sunset, or go on a cruise around the cove and take photos with the view of the beach resort.
Follow me @ruthilicious for more stories.
Related Read:
Santorini, Greece Vibes in Santiago Cove Hotel | Ilocos Sur
Kuala Lumpur, Malaysia (2022 Guide) | Travel Requirements, Budget and Sample Itinerary