Bucket List | Cross the Intersection of Abbey Road 
When I found out I have a few hours free to roam around London, I knew I have to see and cross the intersection of Abbey Road. It is a must-do in London and must be included in your travel bucket list.
I planned to visit right after my visit to Harry Potter Studios (because I was flying back to Manila the following day), but I managed to get lost in the subway and decided to just go back to the hotel and shop. :p
The following day, I only had 4 hours free in the morning to visit Abbey Road. My friends, Muriel and Eduardo were all set to visit Notting Hill, but they both agreed to join me to Abbey Road instead. Such good souls.
We relied on the map to get to the destination. Partly, I was hoping to see street signs that would point us to Abbey Road. But there is none. Then. Finally. We saw a busy intersection down the road. Abbey Road.
Again, I wanted to cry. I love Beatles. One of the greatest bands ever. And I am right there standing just across the street – looking at tourists who crossed the street and mimicking how John, Paul, Ringo and Gringo did it.
I was guessing the Londoners and those who drive around are already used to seeing these tourists.
We didn't want to waste time and we thought of a game plan – Muriel will take photos and Eduardo and I would have to find the perfect timing to get our spot/frame/moment crossing the Abbey Road.
The first time I walked down the pedestrian lane, I wanted to jump and scream. When I got to the other side,, that;s when I saw the signage Abbey Road NW8.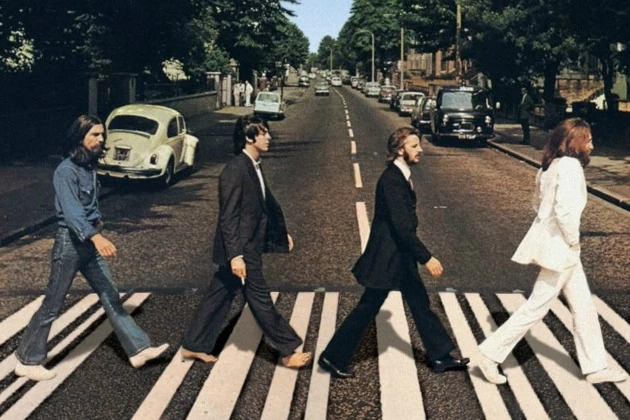 I never realized that it was such a challenge to get cross a small, yet functioning intersection that is Abbey Road.
The challenges:
– cross without getting hit by a car.
– cross perfectly before another car blocks the view of your photographer.
– have a photo taken without other tourists in the frame. 
– make the cars wait for you to cross while you mimic the Beatles pose. 
Cars were passing, people were crossing. I wanted to tell each and everyone of them to just give it to me. 🙂 I traveled 14 hours non-stop to be there. 😀
The Beatles had 6 shots. I crossed more than 10 times and had a dozen photos.
Pedestrian Priority 
We only had 30 minutes left to walk back to the hotel before our car service to the airport. I wanted to cry thinking I was there in the Abbey Road Studio but I didn't have the time to visit — or even just buy a souvenir. But hey, London will always be there. We can always go back.
Ending this post and I just realized that it is August 8th! Same day in 1969, a photographer spent a few minutes to take a photo of the Beatles and one made it as an album cover.
Would you add crossing the Abbey Road to your Bucket List?